Suncast offers a wide range of snow tools to tackle whatever the weather sends your way!  Not sure which tool is right for you? Check out this article for an in-depth look on all Suncast snow tools have to offer.
Main Components of a Snow Shovel:

Wear strips- are added to select models to increase the life of the product:
Wear strips reduce wear on the blade edge
Wear strips also help remove compressed snow or light ice
Wear strips are made of either galvanized steel or industrial-grade nylon
Blade-Suncast offers multiple types of blades on our shovels:
Shatter-resistant polycarbonate blades are up to 12 times stronger than conventional polypropylene plastic shovels.  Our polycarbonate shovels offer a 3-year limited warranty*
No-stick Polypropylene or High Density Polyethylene blades are durable to handle a range of snow tasks
Aluminum-lightweight and reliable, these versatile blades can stand up to years of use
Shaft:
Out Steel Core shaft is encased with a vinyl covering to combine the strength of steel and longevity of plastic
Our Fiber Core shaft with durable resin sleeve helps reduce impact while providing lightweight strength
Our Ergonomic shaft includes bend handles and has been engineered to minimize back strain 
Our Aluminum shaft is lightweight for easy use when shoveling fluffier snow
Handle & Grip:
D-Grip Handle: This unique shape is available with a range of cushioned handles for added comfort and easy use
Double Grip Handle: additional handle to provide a higher lifting point which helps reduce stress on the blade
Suncast manufactures a variety of snow tools including: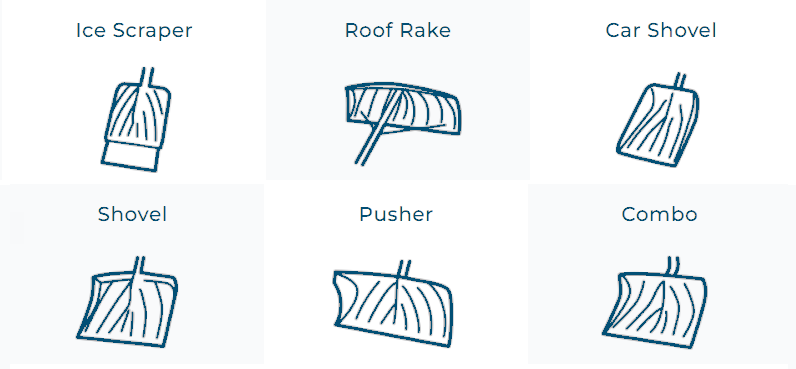 Ice Scraper:
Helps chip away ice and compressed snow
Features a tempered galvanized steel blade bonded to a high impact resin cover
Blade width ranges from 7"-8"
Roof Rake:
Extra-long handle for removing hard-to-reach snow
Car Shovel:
Smaller and compact for convenient storage in a trunk or backseat
Shovel:
Features a flat blade profile with a short-shaft for lifting light snow.
  Blade width ranges from 18" to 20"
Pusher:
Features a curved blade with a long shaft for removing snow without lifting.
Most effective with dry snow of 3"-4" deep
Works best on a smooth, paved surface
Blade width ranges from 18" to 27" 
Combo:
Combines design elements of the shovel and pusher to accommodate almost all snow removal needs
Features a lightly curved blade with increasing height on the sides, and the shorter shaft of a shovel
Blade width ranges from 18"-20"
Like what you see? Check out Snow Tools - Suncast® Corporation to view our complete lineup!
Still Need Help?* You can Submit a Support Request anytime or give us a call at 1-800-846-2345
*We are available Monday thru Friday from 7:30 AM to 6:00 PM  CST