📢️ Introducing the Suncast
®
Backyard Oasis
®
Entertainment Bar!

Add style to your deck or patio with the Suncast
®
Backyard Oasis® Entertainment Bar (BMEB2000). Featuring 4 pull-out drawers, a concealable center compartment capable of housing a mini-fridge, and a variety of compatible accessories (sold separately) this bar has room for all your entertainment needs. With space for up to 4 bar stools, an attractive Marblecast Design™ Countertop, and a clean modern look your backyard will soon become the envy of your neighborhood.
Have questions about the BMEB2000? Check out our FAQ's below ⬇️
And don't forget to watch the video to see all this bar has to offer!
Q: What are the dimensions of the Entertainment Bar?

A: The exterior size of the bar is 78 inches in width, 35.75 inches in depth, and 43 inches in height. (Assembled Size)
Q: What is the weight capacity of the drawers and bar top?
A:
The bar top has a weight capacity of 150 lbs.

Each large drawer has a weight capacity of 50 lbs.

Each small drawer has a weight capacity of 10 lbs.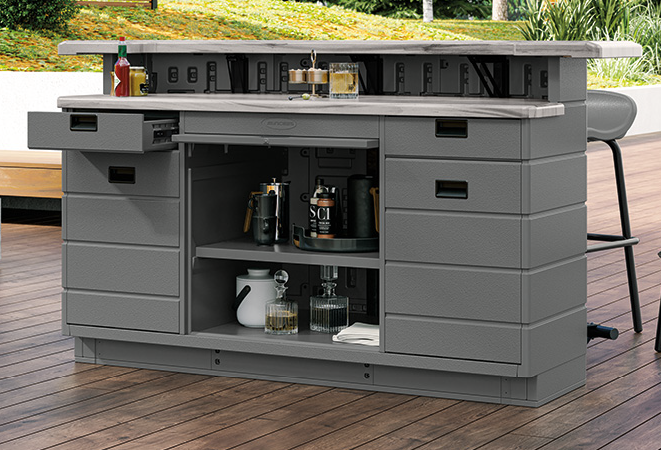 Q: Can a trash can fit in one of the large drawers?

A: Yes, We recommend using a standard 7-gallon trash can for the best fit and to maximize space.
Q: Is there space to store a mini fridge or cooler?
A: Yes, there is room for storing most 1.6 cu. Ft. mini fridges in the concealable center compartment (shelf must be removed to accommodate for the fridge). If you are looking for another alternative, don't forget to check out our foam cooler liner (sold separately) that is designed to fit in one of the two large drawers as well.
Q: How many bar stools can the Entertainment Bar seat? Do they come with the bar?

A: The bar can seat up to 4 standard 30 in. H bar stools. You can use your own stools or purchase matching stools separately (see accessory info below for more details).

Q: How do you clean the Entertainment Bar?
A: The Suncast® Entertainment Bar is a cinch to clean up! We recommend using all-purpose cleaners like 409 or Simple Green. You can also use water and mild detergent with a soft bristle brush. Avoid using abrasive materials. To keep your bar ready to go at a moment's notice, you might also want to invest in a bar cover like the BARCVR2000 shown below (sold separately).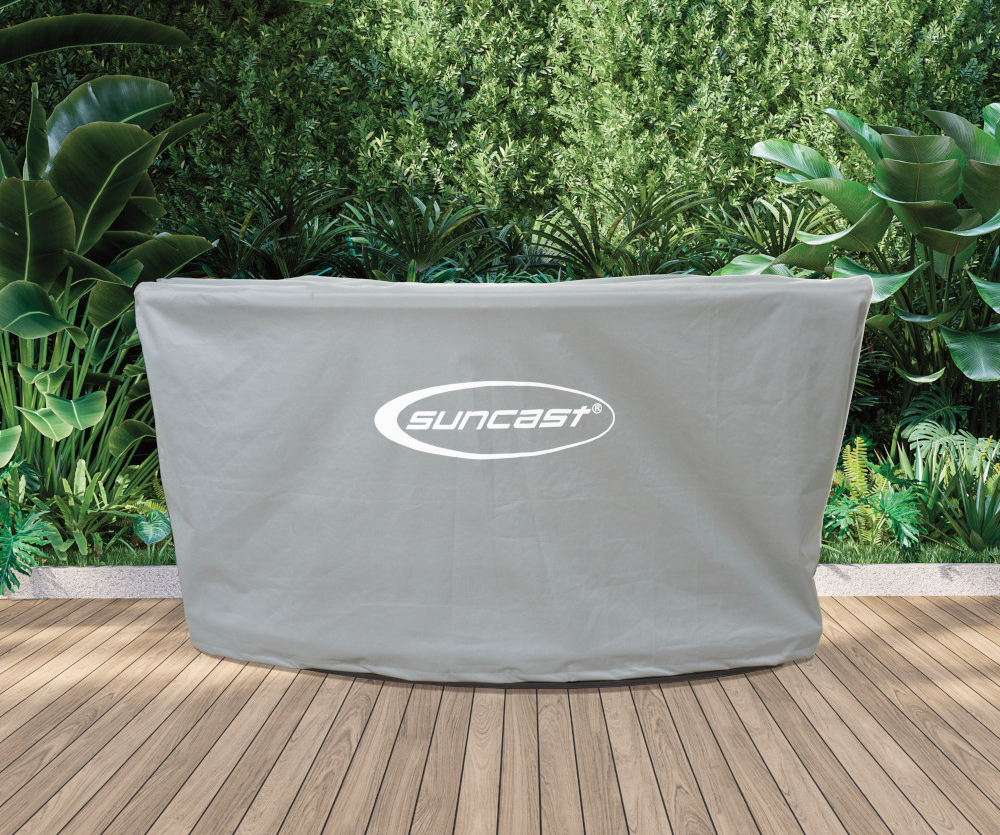 Q: Do you offer accessories for the Entertainment Bar?
A: Yes! The following accessories are compatible with the BMEB2000 (accessories sold separately). Click on the links below to learn more about them:
Want to learn more? Check out the Suncast Backyard Oasis Entertainment Bar (BMEB2000) on our website to review the full product specs, compatible accessories, and to find available retailers near you!
Looking for assembly assistance? Don't forget to watch the full product assembly video here: BMEB2000 Assembly Video
Still Need Help?* You can Submit a Support Request anytime or give us a call at 1-800-846-2345
*We are available Monday thru Friday from 7:30 AM to 6:00 PM & Saturday 9:00 AM to 3:30 PM CST