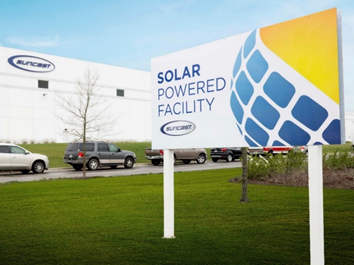 At Suncast, we are driven by our dedication to the highest standards of quality, innovation and sustainability. We believe that doing the right thing, supporting our communities, and making the world a better place is good for business.
Recycle and reuse 100% of scrap resin in the manufacturing process
Most of our wheels that we manufacture at Suncast are made of recycled material
Majority of our black shed floors are made from recycled material
Established in April 2021, one of our 3 manufacturing plants (250,000 ft²) is powered by Solar energy*
*Future plans are in place for solar power for remaining facilities
Our entire security vehicle fleet is clean energy/electric powered, and we are planning to expand this to our entire vehicle fleet
We are replacing our equipment, lighting and other energy consuming items with more efficient alternatives
Many products we manufacture are recyclable at end of life, and we will accept them back to our facility, so that we can recycle them in our manufacturing process for a greener and sustainable future.
***Products must be properly and safely packaged, and shipped to:
Suncast Corporation
Attention: Returns (Recycle)
1801 Suncast Lane
Batavia, IL 60510
Net Zero Carbon | Waste Minimization
We do not generate any resin waste – 100% of any scrap is recycled and reused

We have already installed solar panels as a clean energy source for one of our plants, and are planning to do so for our other facilities

Our entire security vehicle fleet is clean energy/electric powered, and we are planning to expand this to our entire vehicle fleet

We are replacing our equipment, lighting and other energy consuming items with more efficient alternatives